InstaCart
The U.S. grocery delivery company has donated $100,00 to the American Civil Liberties Union's Immigrants' Rights Project, an initiative dedicated to expanding and enforcing immigrant  civil rights. InstaCart has also supported lawyers working to help legalize undocumented immigrants in the U.S. CEO Apoorva Mehta tweeted that as an immigrant himself, he wants to support and help other immigrants.
1/6 As an immigrant who grew up in one of the countries that was banned, I'm sad and angry with what is happening.

— Apoorva Mehta (@apoorva_mehta) January 29, 2017
Fenty
Luxury apparel brand Fenty gets its signature style from Rihanna, the first woman of color at the top of LVMH Moët Hennessy Louis Vuitton, the world's largest luxury group, and an immigrant from Barbados. Rihanna designed a t-shirt for her trademark collection that reads "immigrant" on the back, as a response to the Trump administration's controversial immigration policy.
"To know that you can come from humble beginnings and just take over whatever you want to, dominate at whatever you put your mind to. The world becomes your oyster, and there's no limit." Rihanna said. "I think it's important for people to remember, if you love me, everyone out here is just like me. A million Rihannas out there, getting treated like dirt."
CHNGE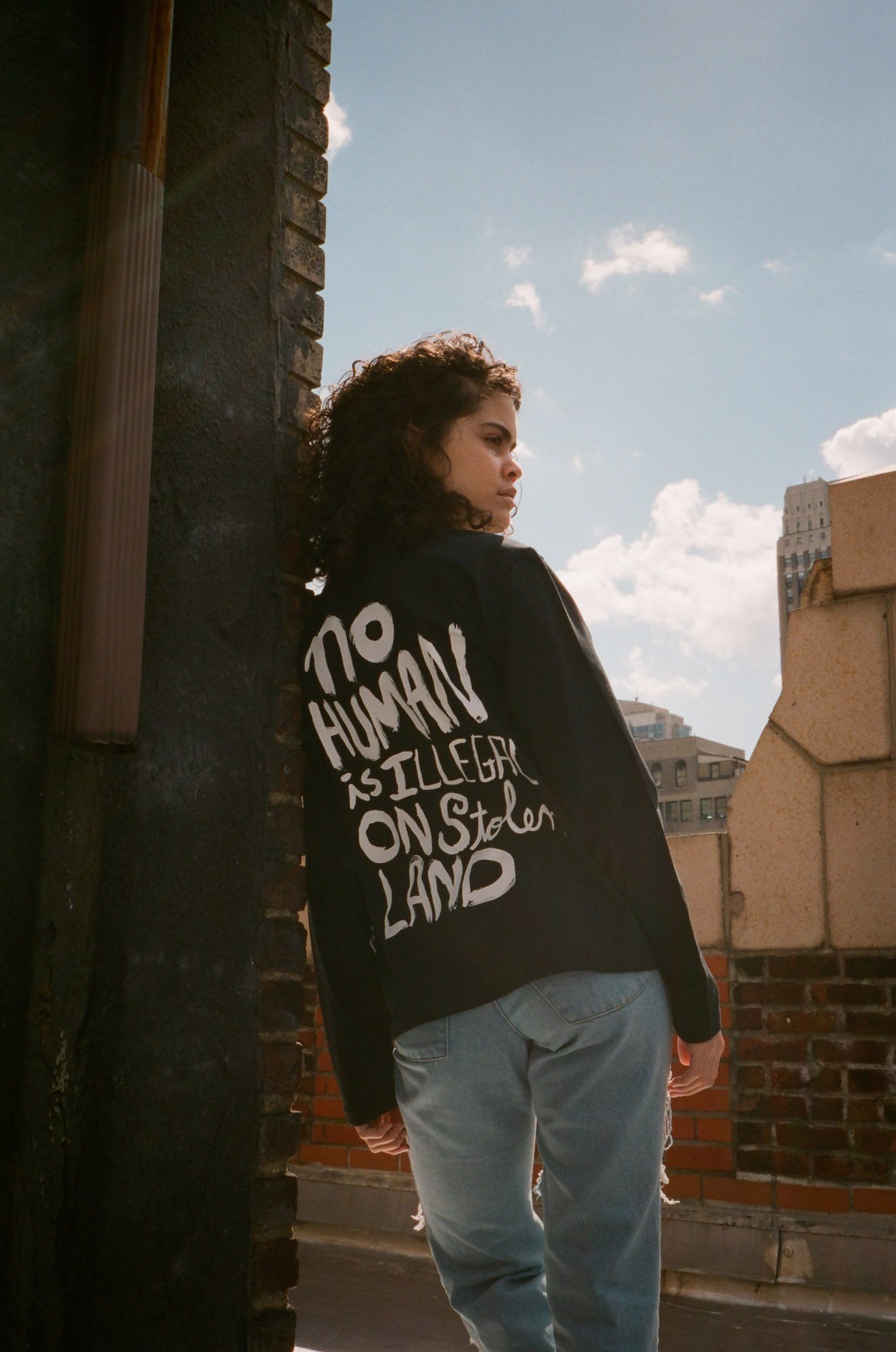 Sustainable fashion brand CHNGE has built their identity around political activism. Their street style clothing is designed to raise awareness of climate change, feminism, civil rights, racial justice, and education. The startup donates 50% of its profits to charities.  CHNGE shirt designs include slogans like "No human is illegal on stolen land" and "Immigrant Power."
Levi Strauss & Co.
American clothing company Levi Strauss & Co., known worldwide for their classic denim jeans, helps immigrant-focused organizations like United We Dream and the National Immigration Law Center. United We Dream supports the immigrant youth community, while the National Immigration Law Center defends the rights of low-income immigrants.
Custom Collaborative
Nonprofit brand Custom Collaborative has shaped its identity around supporting female immigrants. This New York-based company helps low-income women and immigrant communities start their careers in fashion. The brand also supports immigrant artisans by shopping for their silks, scarves, wraps, and more.
"Specific to the fashion industry lens, immigrant women make up such a large and vital percentage of the workforce, yet they are not given the credit they deserve for their contribution to the industry or fair compensation and leadership opportunities," said the company's executive director, Ngozi Okaro. "Immigrants have always been the core of the fashion industry in the U.S., because they have amazing ideas, just like those of us who are already here, and because they have already displayed courage and ambition by leaving their communities, friends, and families to make a new home in a foreign land."