A co-working space in the normally quiet residential area of Sunny Isles, a barrier island in northeast Miami-Dade, is fully booked. "The pandemic has been really good to us," said one of the managers. "Ten New Yorkers and four people from Chicago came in recently, and now we are sold out." 
An average of 950 people move to Florida every day, according to 2020 Miami Report released in summer. Most of them are coming from densely populated areas with strict COVID restrictions, such as California, New York, Boston, and Chicago. Many executives and heavyweight investors are following the trend, leaving COVID hotspot cities for the sunnier shores of Miami. 
One of them is Keith Rabois, a tech executive and early-stage investor in Square, LinkedIn, PayPal, Slide, and Yelp. "Short version of Clubhouse: People in Miami smile," Rabois wrote in January.
Short version of Clubhouse: People in Miami smile. In contrast, people in SF are depressed, casting blame, and claiming credit for things they had nothing to do with.

— Keith Rabois (@rabois) January 17, 2021
VC David Blumberg said he was pushed to move to Florida by "poor governance" in California. New York's first tech billionaire Jon Oringer, the founder of Shutterstock, moved to his new $42 million home in Miami Beach and launched a fund, Pareto Holdings, to invest in local businesses. 
The gateway to Latin America and Europe 
For international entrepreneurs, Silicon Valley has long been one of the best places in the U.S. to build new startups and attract early-stage investment. New York has a reputation as a top destination for founders looking to scale businesses and sell their tech products. What does Miami have to offer?
"Aside from lower costs of living compared to New York or San Francisco, beautiful beaches, and great weather, Miami is the true gateway to Latin American market," said Chris Stegner, CEO and co-founder of Very Big Things, a Miami-based digital products agency. "Here you are in the East Coast time zone, which is also close to Europe, unlike San Francisco, where the time difference with Europe is 9-10 hours," added Stegner, who has an office in Croatia as well.
U.S. tech giants like Google, Facebook, Twitter, and Spotify opened Miami headquarters  to run their operations in Latin America. The existing ecosystem is already attracting more investors and entrepreneurs. At the end of December, New York fund Palm Drive Capital opened an office near the city's Midtown to support its LatinX portfolio companies. 
Latin Americans are not the only community flourishing in Florida: French, German, Italian, and Irish enclaves are well-established throughout the area. Immigrants from Russia, Ukraine, and Belarus are another large ethnic group in Miami-Dade area.
"The fact that there's a huge Russian-speaking community in Miami is appealing to me," said Alexander Iurev, a Russian emigre and founder of iCoinSoft, one of the first U.S. blockchain software developers. Iurev is now considering moving the company's head office from New York to Florida. "But the main advantages are the low-tax climate, modern infrastructure, and brand-new offices, better and cheaper than in New York or California. Along with the low costs of living, this provides great opportunities for international startups, as well as global VCs, who can save millions of dollars investing in Miami-based businesses." 
According to the American Immigration Council, 57 percent of business owners in the Miami-Fort Lauderdale-Miami Beach metro area are immigrants.
Miami's tech ecosystem  
The Miami's tech ecosystem started developing almost a decade ago and now includes many accelerators and tech hubs, including those that focus on international founders. One recent success story is the educational technology startup Nearpod, founded by three immigrants from Argentina. The company raised nearly $31 million from Insight Venture Partners, Knight Foundation, Miami Angels and other investors. According to the company website, Nearpod now serves 60 percent of U.S. school districts. 
Florida is also home to unicorn companies like Magic Leap, Mako Surgical, and Fanatics. Ana Paula Gonzalez, Director of Global Ecosystem Development at 500 Startups, said in a blog post that the accelerator "firmly believes that South Florida's tech, innovation and entrepreneurial ecosystem is at an inflection point, with the real potential of becoming a global hub – and the best is yet to come."
Strong verticals can be built around Florida's industries, Gonzalez said. "These include real estate and construction, healthcare, logistics and transportation, travel and hospitality, and aviation and aeronautics. And hopefully we'll see South Florida emerging as a pioneer for climate change-focused startups," she wrote. These verticals are already being established. Ford, for example, chose Miami-Dade as its first city globally to develop driverless tech.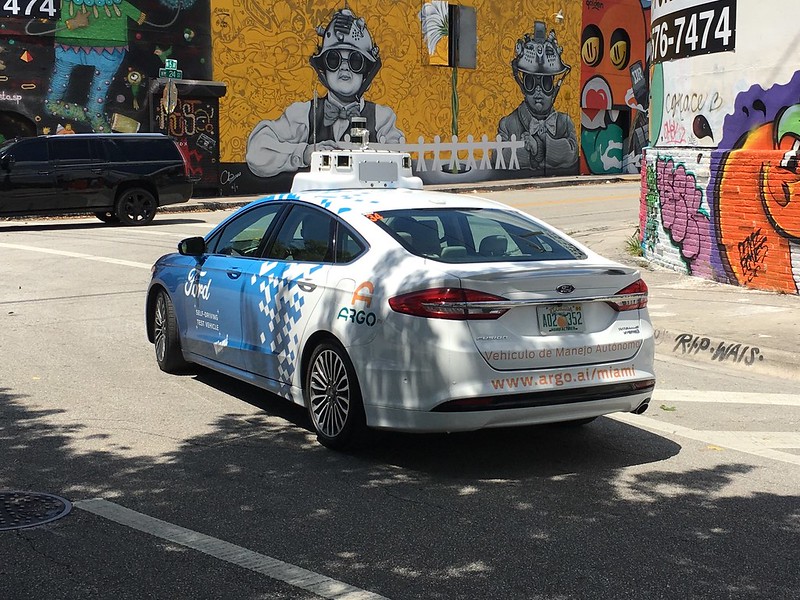 The automaker is in the process of creating a 140,000-square-foot self-driving commend center west of Miami International Airport. The space, which is expected to be fully operational in 2021, will include customer relations, business development, research, and testing. Currently Ford is testing a fleet of 30 self-driving vehicles at the company's center in Wynwood. 
What's next for Miami? 
In early December, the city's Mayor Francis Suarez accidentally launched a promotional campaign on Twitter. When someone suggested moving Silicon Valley to Florida, Suarez responded "How can I help?" His tweet received 2.3 million likes and attracted attention from numerous venture capitalists and entrepreneurs. 
How can I help? https://t.co/hIC1k8ka1i

— Mayor Francis Suarez (@FrancisSuarez) December 5, 2020
Before the exodus from Silicon Valley and New York, Florida's angel investors were extremely active with venture funding: according to Crunchbase data, local startups raised around $1 billion in 2020. "The only thing Miami has been missing is monumental VCs with large rounds," said Chris Stegner. Now, with heavyweights moving to Florida, Stegner believes their investments will become the validation for ambitious local startups with global potential. 
After building its tech ecosystem for more than a decade, the coronavirus pandemic is turning Miami into an innovation hub. "COVID fast-forwarded technology and digital transformation about five years," Stegner said. "The same is happening with investors and entrepreneurs moving to Miami: the process just got fast-forwarded."
Resources for international tech entrepreneurs 
Refresh Miami is one of the first tech non-profits in Miami. Since 2006, Refresh Miami has been connecting South Florida's startup industry. 
Venture Cafe Miami was established in 2016 to bring innovators and entrepreneurs together, as well as create opportunities for Miami's diverse communities.  
Cambridge Innovation Center (CIC) in Miami is offering a soft landing program for international businesses looking to launch in the U.S.
VentureCity, an accelerator working with diverse founders to help them scale globally, offers different types of programs. 
Endevour Miami runs a growth bootcamp, powered by Facebook, for immigrant Latina founders, and also launched a cohort for Black entrepreneurs.  
The Women Innovating Now (WIN) Growth Lab is helping female founders to successfully scale their businesses. 
500 Startups was launched in Miami MindWarehouse in 2018 in partnership with the Miami Downtown Development Authority, Visa, and the Knight Foundation.