In 2019, Chloe Vichot's restaurant Ancolie evolved into Fresh Bowl, a tech startup. While Ancolie sold sustainable lunches served in mason jars, her new startup plans to set up 100 fresh vending machines in the following year.
Fresh Bowl, raised a $2.1 million investment early this year. But then COVID-19 hit. Now, facing the uncertainty of the pandemic, Vichot is developing her leadership and communication skills.
Cooking for a living was not the preferred option in Vichot's family. "My parents – both entrepreneurs – encouraged me to have a steady income and work for big corporations," she said.
Although opening a restaurant was her childhood dream, Vichot pursued a career in finance. She worked in New York for over a decade for top international banks like BNP Paribas, Société Générale, and Bank of America. But deep down, her childhood dream was still alive.
A sustainable lunch with a French twist
Chloe Vichot spotted the opportunity right away: lunch options, something corporate employees just grab and go, "weren't good enough" in the city. But first, she had to learn about the food industry, so she enrolled at the NYC-based Institute of Culinary Education.
Although the New York restaurant scene is one of the most competitive in the world, Vichot never thought of going back to France. "I've already built a life and a family," she said. "In Paris, I would be just another French girl who opened a restaurant. In New York, I could make a difference."
Then Chloe Vichot traded in her position as VP of international investments at a major U.S. bank in favor of a job as a kitchen server at the upscale Manhattan restaurant Eleven Madison Park. Finally, she went on to found Ancolie, an eco-conscious eatery in Greenwich Village where lunch was packaged in reusable glass jars.
"Having a background in finance helped me achieve my dream," believes Vichot.
Devastated by restaurant closures
"Entrepreneurship is never easy, no matter where you are," said Vichot. The U.S. and France have something in common — bureaucracy. "There's more bureaucracy in the American restaurant industry than people think, and it's very stressful to deal with."
"Also, there are a lot of hidden costs. Many great restaurants won't survive the pandemic, and I feel devastated just thinking about it. Others might lose their teams."
"Consistency is the key to creating any product, and that's what a great team provides," Vichot said. "When people are motivated, no task is beneath them. My team saw me washing dishes: they know I wouldn't ask them to do anything I wouldn't do myself."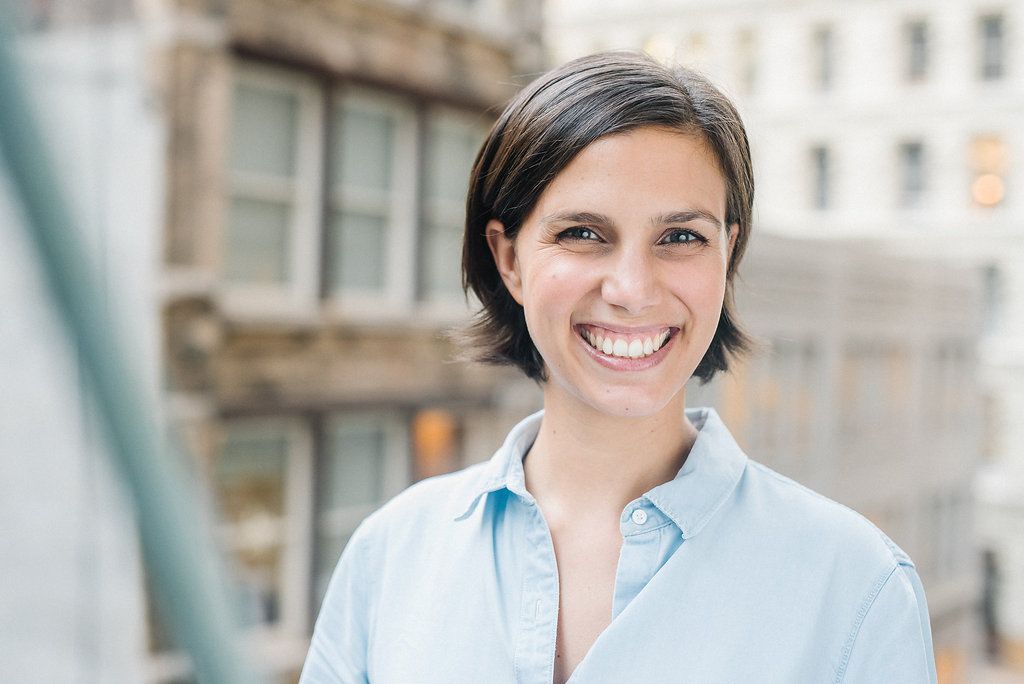 Founding Fresh Bowl: From food in Mason Jars to fresh vending machine
In 2019, Chloe Vichot's restaurant evolved into a tech startup. Fresh Bowl is a vending machine brand providing fresh meals and snacks in reusable jars.
"One day my future co-founder Zach Lawless walked into my restaurant and asked if I was interested in expanding into vending machines," Vichot said. "His suggestion made a lot of sense."
The new venture will have more locations, where customers can return jars for a $2 credit on their next purchase. The startup could also save on rent: most partner locations agreed to take a percentage of sales.
Early this year, Fresh Bowl raised $2.1 million in a seed round co-led by Betaworks Ventures and New Ground Ventures, along with other investors. Founders had aimed to have 50 vending machines by the end of the year, and to integrate AI to collect data on consumer preferences. But then COVID-19 hit, and Fresh Bowl had to temporarily shut down its machines.
"It's difficult to run a business in the pandemic, our sales have decreased. At least we don't have to pay rent," Vichot said.
Advice for Immigrant Entrepreneurs
Don't wait too long
Never stop learning
Investors often invest in your personality, not just the project
Don't be afraid to go into business with someone very different from you
"My advice for foreign entrepreneurs in the U.S. — don't wait too long," Vichot said. "If you have an idea, build a prototype and start selling as quickly as possible before raising capital. Don't underestimate the importance of feedback and talk to as many people as possible."
"Investors often invest in your personality, not just the project. I've spent so much time working on a perfect business plan for my first venture because I was a little shy. With Fresh Bowl, we just went for it."
"Don't be afraid to go into business with someone very different from you. My co-founder is younger and we have different backgrounds but, at the end of the day, things worked out."
"Never stop learning. In France, we are more direct in business than in the U.S. and, although my boldness helped me achieve a lot on Wall Street and in business, I don't want it to be an obstacle. That is why I am using this break to read more and learn how to communicate with my team to be a better manager."